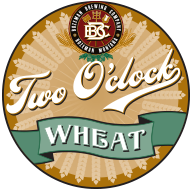 Two O'clock Wheat
SPECIFICATIONS:
ABV 5.5% IBU 14 Starting Gravity 13° Plato Finishing Gravity 2.5° Plato


Two O'clock Wheat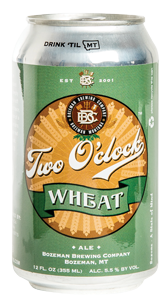 This Montana version of a classic German wheat beer is unfiltered, with a gentle malt body and a mild yeasty flavor that makes this golden beer refreshing and satisfying. Named in honor of our Two O'clock regulars! Our Wheat contains 50% malted wheat, German acidulated malt, as well as 50% Montana grown and malted Pale barley.
2009 NABA Bronze Medal
Style:American Style Wheat Ale
Pair:Best with very light foods: salads, sushi, and vegetable dishes. Cheese: Buffalo mozzarella or Wisconsin brick. Dessert: Generally to light for desert, but could pair with fresh berries or a fruit soup.