We will provide updates through this evolving situation
Sunday, June 20th, 2021
Our tasting room has returned to pre-COVID operations! Bar seating is back! If you need a refill on your pint, head to either end of the bar to get one. The canvas walls from Elk Camp have been removed allowing for a breezier, open-air Summer Camp to take it's place. The only thing we haven't reinstated is the self-serve popcorn, but a beertender will be happy to grab some for you from the back. We are SOOO looking forward to seeing you across the bar!
---
Thursday, May 27th, 2021
Plexiglass partitions have been removed between our tables on the west wall; we are not quite ready for bar seating or allowing self service of popcorn but will get there soon. Thanks for your patience and understanding. We will soon roll up the sides of Elk Camp for the summer too.
---
Thursday, May 20th, 2021
Based on recent updates via the CDC and Gallatin City/County Health Department, masks are no longer required in the tasting room and we are working towards operating at full capacity.
Table seating is still in effect but you can now order beers at the bar or from a bartender that's making the rounds. We will be eliminating the plexiglass partitions in the not too distant future and allowing bar seating but are easing our way back into "normal" operations at this time.
---
Saturday, April 17, 2021
For those of you who are curious, yes, we are still operating under guidelines put forth by the city-county health department:
We are still at 50% capacity limits, with no more than eight adults per table. Masks are still required for people 5 years of age and older when not seated at a table. We are continuing to follow rigorous cleaning protocols to create the best environment possible for you, our guests. We have not yet opened up our bar for seating, but are eagerly awaiting the arrival of that beautiful day.
As always, thank you for your continued support. Keep drinking 'til MT! <3
---
Sunday, November 8, 2020
With the snow flying today, our winter beer garden was given its first test. The wall tents prove to be cozy! The heaters are in to keep you very warm, and the tents are up to keep you dry. Come down and enjoy a beverage in a mostly outdoor environment all winter long!
Friday brought with it further restrictions from the health department. We are operating at 50% capacity, with no more than six adults per group. If you come with more than six people, we will be happy to have you, but know that we will have to split your group to two or more tables. Masks are still required for guests 5 years of age and older.
---
Saturday, October 31, 2020
Spooky Halloween, everyone! Thanks for the ongoing support over these past few months. We have hit our service stride and are happy to continue to offer the same socially distanced, constantly sanitized space for you to enjoy a tasty beverage and meet with your friends in. With the changing weather we have reevaluated our outdoor patio space and put up our winter beer garden—which we have dubbed the Bozone Elk Camp. Expect to see the WALL TENTS all winter long (heaters to come soon!) We will also have a fire pit outside to light on nice days to act as a waiting area or simply an outdoor space to hang. So bring a puffy coat or a blanket and join us at Elk Camp!
If you feel more comfortable hanging at home, we still have our curbside pickup option available. Order your beer at bozemanbrewing.square.site and swing by to pick it up at your convenience! Be sure to bring your ID for a quick check!
We hope you are all staying healthy and happy, and hope to see you soon!
---
Thursday, July 16th, 2020
The Governor of MT has issued a MASK MANDATE, effective immediately. This means all patrons 5 years old and above are REQUIRED to wear a mask or face covering while on premises to help limit the spread of Covid-19. Patrons are allowed to remove masks or face coverings while seated at their respective table and consuming a beer or popcorn. We kindly ask that you wear your face covering while utilizing our restrooms, perusing merchandise or leaving the tasting room. Thank you for your cooperation and understanding with this new mandate in order for us to remain open.
---
Friday, June 12, 2020
We are so excited to announce that the day has come at last: Bozeman Brewing will be reopening our tasting room! We have taken these past three months to deep clean, give the tasting room a bit of a face lift, and hone our curbside pickup program. Now, we feel ready to invite you all back inside. We have missed you so!
As you all surely know, we have a small space to work with. Smaller than many. Reopening means adhering to social distancing guidelines in the tasting room. Expect to see some changes as you walk in the door (and even before!). We are implementing these "new rules" to keep both you, our patrons, and our staff safe as we are still in the midst of this global pandemic. What changes, you ask? Here are a few of the most prominent:
*There will be a host "desk" (located under the tent, also functioning as our curbside pickup station). When you arrive, please wait here to be seated at an available table.
*We will come to you to get an order and bring your beer to your table. Take a look at our menus from your table, sit back, and relax!
*There will be no bar seating and you will not be able to order beer at the bar. We cannot keep the recommended social distance while allowing people to sit or stand at the bar.
*We need everyone to remain seated at their table. This one is hard. We know that many of you come down to mingle with your brewery friends. For the time being, we cannot allow more than 10 people to congregate at a time. Of course, feel free to use the restroom or attend to other personal needs, but unless it is necessary, please remain seated at your table.
*We have been approved by both local and state officials to open a temporary PATIO (aka Bozone beers outside!) in our loading dock pad. Hello, summertime!
*We are required to adhere to a strict capacity limit. We will be monitoring this closely to assure we are in compliance. This might mean you will have to wait for a table to become available.
*There will be no more self-serve popcorn. But do not fret. Order a bag from your bartender! Salt or no salt?
For those of you who are not quite ready to join us in the tasting room, we will still be offering our Curbside Carryout service. Either place your order ahead of time at bozemanbrewing.square.site, or come on down to the tent outside to place an order to go. 
We are sooo looking forward to welcoming you all back. We hope that both our beer and our space will continue to serve as a vehicle to bring our community together. We cannot thank you all enough for supporting us through these turbulent times. We are here because of all of you and we are here for all of you.
Stay safe and stay healthy, Bozeman. 
Air cheers for now, real cheers coming soon,
The BBC Family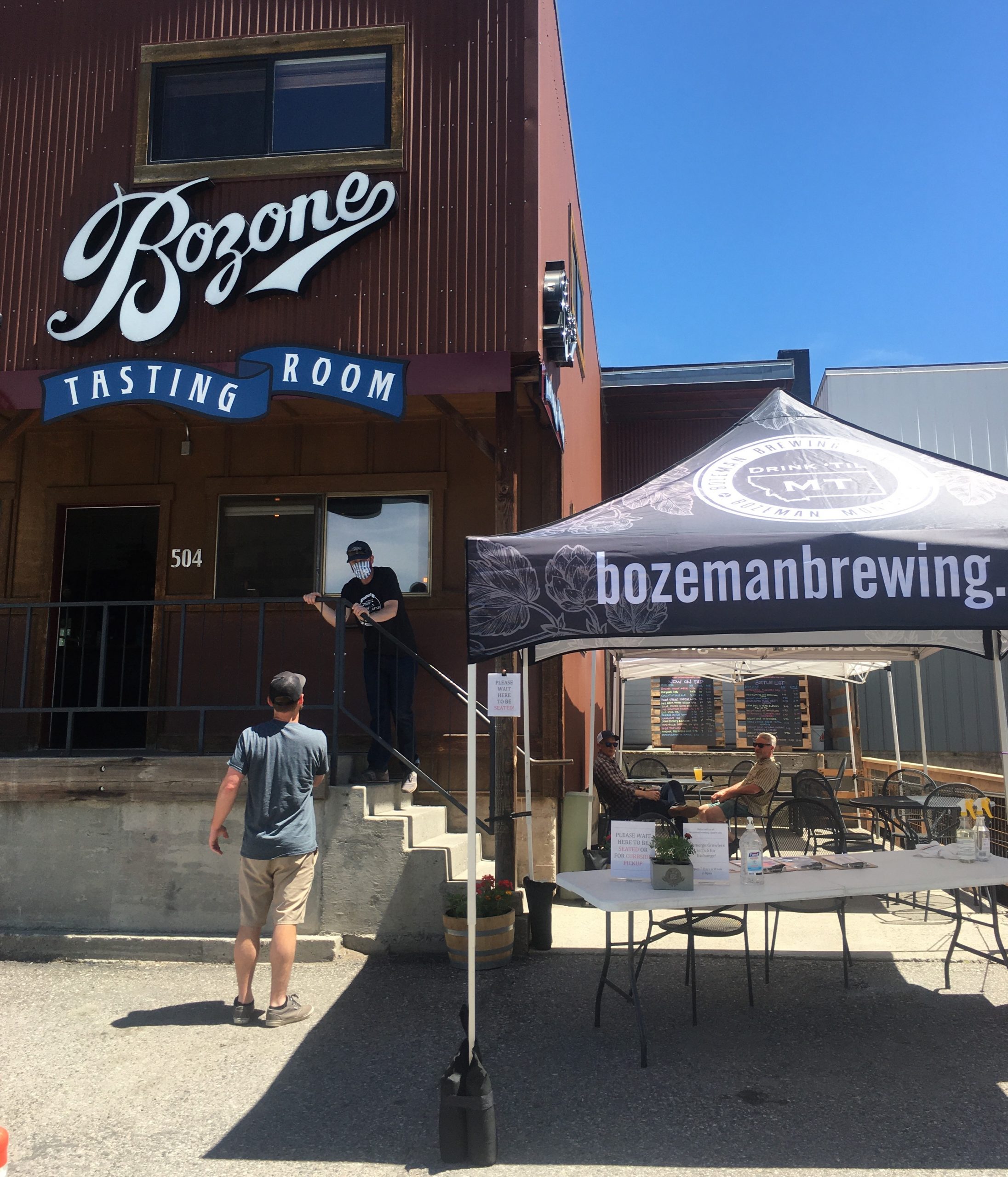 ---
Friday, May 1,  2020
As the stay-at-home order lifts and businesses begin to reopen, we are taking a cautious approach to reopening the tasting room. We will NOT be opening our tasting room for pint sales on Monday, May 4th. We have made this decision with the safety of both staff and patrons in mind. Our small space is not conducive to maintaining proper capacity restrictions and physical distancing mandated by both the state and city-county health departments. We are looking into all options as to how and when to open in a manner that works best for us to facilitate distancing and sanitization while providing an inviting atmosphere.
What we have decided to do is expand our curbside pickup hours! Starting Monday, May 4, you can place your orders online or call 406.585.9142 and pickup curbside seven days a week, noon-7pm. As many of us return to a more regular schedule, we want to make sure you can still swing by and grab your beer after work or while you are out and about over the weekend. After all, what's a weekend without a 6-pack of your favorite cold ones?
From the bottom of our hearts, we want to thank you again for your ongoing support through these challenging times. We cannot express our gratitude enough to this community. Thank you and stay well!
Air cheers from all of us,
The BBC Family
---
Tuesday, April 7, 2020
Governor Bullock extended the current "Stay at Home" order to April 24, 2020.
We continue to facilitate all your beer needs via our call in, credit card and curbside pickup program!  Stay safe, be strong and good health to you all.
---
Thursday, March 26, 2020
At today's meeting of the Gallatin City-County Board of Health, the board adopted amendments to the emergency rule that was created on March 18, 2020 and approved extending the rule to April 17, 2020.
---
Tuesday, March 24, 2020
Call in, credit card and curbside pickup is now available for double pint cans, new growlers, 6 packs, bottles and kegs!  Click here for all the details. We are not refilling personal growlers or servicing walk in customers at this time.
Governor Bullock extended current restrictions placed on bars, brew pubs, casinos, and restaurants to April 10, 2020.
---
Monday, March 16, 2020
Effective immediately, we have made the difficult decision to shut our tasting room down until further notice in response to the developing COVID-19 situation. Together with our friends at MAP Brewing, Outlaw Brewing, Union Hall Brewery, and Bozeman Spirits Distillery, we have made this group decision to do our part to promote social distancing in our community and ultimately decrease the spread of this virus. We think this is the best decision moving forward for our staff, patrons, and community as a whole. Once this proverbial dust settles, we look forward to sharing a pint with you all again.
For those of us with cans and/or bottles on the shelves, we appreciate your continued support through these challenging times. We hope that you continue to buy local and support us and our neighbors throughout the Gallatin Valley.
From all of us,
Cheers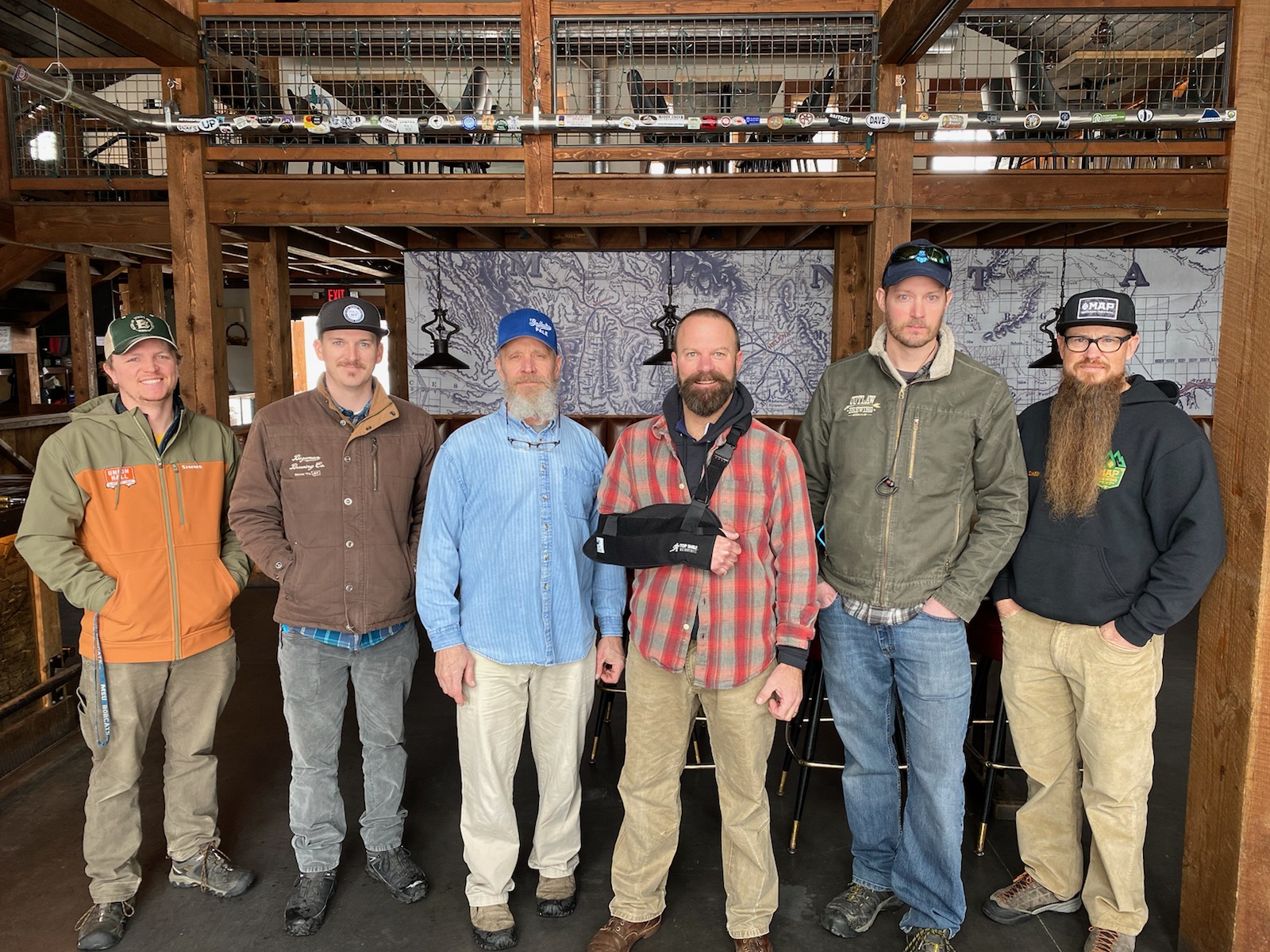 ---
Friday, March 13, 2020
Due to current events in regard to the COVID-19 virus, we would like to assure our patrons and the Bozeman community that we are addressing the situation with a solemn seriousness and proactive measures. In order to protect the entire Bozone family, whether patron or staff, we are implementing additional cleaning and sterilization protocols in our tasting room. Stringent sterilization of highly contacted surfaces, such as doorknobs, tables, and light switches, will be done on a regular basis. As always, we are asking our employees to wash their hands often. We have a strict policy of employees remaining home if any symptom is experienced. Although we love our patrons and seeing you all at the tasting room, we kindly ask that you also remain home if you are experiencing symptoms.
Please help us keep our community safe.
We will continue to stay informed and respond to the situation in a way that will best protect everyone. Our highest priority is the wellbeing of both staff and patrons. As the situation develops we will reassess and communicate changes that may arise.