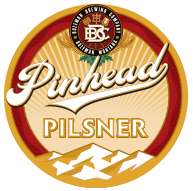 Pinhead Pilsner
SPECIFICATIONS:
ABV 5% IBU 40 Starting Gravity 11.25° Plato Finishing Gravity 3° Plato


Pinhead Pilsner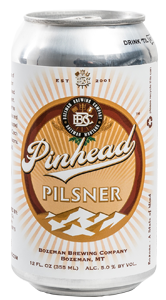 Brewed at the close of winter in conjunction with the Pinhead Classic @ Bridger Bowl, this Bohemian lager has a gentle malt body, a golden straw color with a dry and refreshing finish. Bitterness, flavor, and aroma are derived from the heavy use of Magnum and Czech Saaz hops. This year we have dry hopped the Pils for even more aroma and a resiny texture that our local hop heads will appreciate! We also employed a special yeast from the brewers of the original Czech Pils to give it a true European flavor. This is a most satisfying winter/spring beer.
Style:Bohemian/Czech Style Pilsner
Pair:Great with lighter food: chicken, salads, salmon, and bratwurst. Cheese: Mild white Vermont cheddar. Dessert: Lemon shortbread, fresh berries with sabayon.